Services

McWilliams Financial is a Full-Service Investment and Financial Consulting Firm Offering a Broad Range of Solutions to Help Build and Protect Your Wealth. Here Are Some of the Services We Offer:
Tax Efficient Investments are playing an ever more important role in the construction of our investment portfolios, as Federal, State, and Local taxes become increasingly burdensome to wealthy individuals, families, and businesses. We compare the advantages and disadvantages of various tax related strategies, to include taxable, tax-deferred, and tax-free investment opportunities, to determine which are the most appropriate for your situation.
401(k) Rollovers allow individuals with company sponsored retirement plans to take advantage of efficient, tax-deferred transfers of their accounts directly into one of our personalized IRA Accounts. We have the knowledge and experience to make sure your 401k rollover is processed according to IRS rules, and is handled with careful attention and expedience. We will help you build an investment strategy within your 401k rollover IRA Account that is right for you!
Diversification Strategies. We incorporate a broad range of investment vehicles into our financial strategies.


Some of these basic types include:
Stocks

Bonds

Mutual Funds

Exchange Traded Funds

Unit Investment Trusts

Money Markets

Cash Management &

CDs
In addition, McWilliams Financial is fortunate to have at its disposal the services and due diligence experience of Cetera Advisors LLC Securities to also offer our clients a much broader line-up of high-quality investment opportunities, including:
Oil & Natural Gas Programs (for maximum tax deductions and diversified income potential)

Traded and Non-traded Real Estate opportunities

Tenant-in-Common Real Estate holdings for 1031 Exchanges (tax-deferred exchange of private real estate)

Leasing Programs

Managed Futures & Commodities

and more.
These diversification strategies are crucial to achieving the most well-balanced Efficient Frontier modeled portfolios.
Efficient Frontier Models can be essential to achieving maximum value from properly diversified investment portfolios. Modern Portfolio Theory (MPT) has demonstrated that when different types of asset classes are combined in varying percentages, the results can create certain "efficiencies" whereby it is possible to increase potential rates of return, while at the same time reducing the amount of risk in the overall investment portfolio. McWilliams Financial is proud to offer this Efficient Frontier modeling approach for our clients' investment portfolios. We invite you to schedule an appointment to receive a complimentary review of your investment accounts, so that we may demonstrate to you the exceptional value of this Efficient Frontier method of asset allocation.
Charitable Giving Strategies offer two significant benefits: they are effective vehicles for creating immediate tax deductions (write-offs), and they can be used to fund worthy organizations and causes that reflect some of your deepest and most fundamental values. McWilliams Financial will help you to see the benefits charitable giving strategies can make. We will also work with your own legal and tax professionals to find opportunities that bring value to both your financial situation, and your philanthropic principles.
Coordination with Legal & Tax Professionals allows for a more efficient and holistic application of your investment strategy. By meeting with your CPAs, attorneys, and other professionals, we are able to work towards achieving a more comprehensive implementation and integration of your financial accounts, tax issues, and legal & estate planning needs. We work with Trusts and Estates, as well as with Wills, Powers of Attorney, and Charitable Foundations. McWilliams Financial believes that by surrounding yourself with a high quality competent team of legal and financial professionals, the combined synergies increase the effectiveness of each member of the team.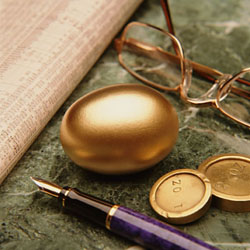 Retirement Income Planning is a fundamental hallmark of McWilliams Financial. While many investment firms tend to focus on the accumulation stage of life, we recognize the importance of having a strong income strategy in place for the retirement years. With life expectancy ages growing rapidly, the need to understand and manage longevity risks has become essential to building a proper retirement income strategy. We take great pride in our ability to meet this ever complex need as Americans approach retirement age, or are already in retirement.
Insurance and Fixed Annuity Services offer clients confidence, knowing they have the strength and security of some of the world's most highly-rated insurance companies backing their lives, their retirement, and their financial assets. Income protection, estate tax protection, business protection, charity & endowment funding, or simply leaving a legacy can all be efficiently realized through the addition of life insurance -- and all for pennies on the dollar.
Annuities can provide a lifetime stream of income to support your retirement, or to leave behind to your family or favorite charity. In recent years we have seen sweeping advances in the types of annuity products offered in the marketplace, primarily to be used as sophisticated retirement funding vehicles. Today's annuities offer many more features and benefits, and are far more advanced than all of their earlier generations. Over the past 10 years we have thoroughly investigated the intricacies and complexities of these higher-level annuity products, allowing us to gain a truly comprehensive understanding of how these annuities can best be implemented to maximize their full underlying value for our clients' benefit.
Professional Money Management is available for our diverse clientele. Whether you are recently divorced/widowed and require extra financial coaching, or if you are a seasoned and sophisticated investor, we are able to structure an investment strategy that is right for you. McWilliams Financial offers a wide range of professional money managers, separately managed accounts, and in-house portfolio management services. We can provide you with a fee-based managed portfolio, which takes commissions out of the equation to help ensure that you receive objective advice that fits your particular needs and situation, or we can offer you a product-based investment management approach. Either way, you will know which of our services is best suited for you, because our complimentary office visits and follow-up appointments will give you the ability to learn about how our services can be tailored exclusively to your financial needs, before having to commit any assets towards working with us.
Please take a moment to visit the WHAT TO EXPECT section of our site to see a general overview of the types of experiences you can expect when working with us. From your initial call or visit to our complimentary appointment services, all of the steps towards working together are based upon helping you achieve your long-term investment solutions!